I search for the extraordinary in everything because I'm not much interested in the norm. I love going beyond the norm, even when that means I'll suffer to get there.

My decision to focus on photography came at a time when people were reaching out with project proposals that I had to refuse due to the lack of time. I realized that if I kept refusing photo projects, they'd stop coming to me, and if I really wanted to do photography I needed to start prioritizing it.

In fact, photography is a way of life for me. I live for photography, I live through photography, I express myself through the image.

The first memory I have related to photography is from when I was about 12 years old and we had a flood in Geneve. I took my mother's Rolleiflex and went out to take pictures, declaring myself a reporter. I took 12 pictures, because that's how many the film allowed, and returned home feeling the proudest I've ever felt. 

Today I shoot nature because I'm fascinated by its diversity, as well as by the way it tells the story of the Earth's evolution. I like researching landscapes that I'm curious about, and then going on adventures to discover them. I observe them at length, and I systematically come back. All my projects are long-term projects, some taking years to complete.

Geneva, February 26, 2020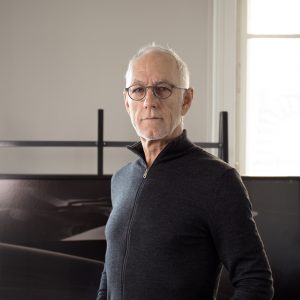 As he was spending his childhood in his family house in Geneva, Switzerland, Pierre-Alain Folliet first discovers photography through his parent's Rolleiflex at age 12. A passion for the image is born.
Later in the USA, Pierre-Alain sets up a photography studio to pay for his university loan and takes thousands of shot with the famous Polaroid SX70. The brand offers him a contract, allowing the photographer to further explore this medium. This period sets the base for Pierre-Alain Folliet's very graphical and minimalist style.
Back home in Switzerland, he starts working in the financial sector in Geneva, but does never forget about photography. He thus starts an exhaustive project on the rock formations in the Lavezzi islands, Corsica, France.
In 2004, while visiting the Yellow Mountains in China, Pierre-Alain Folliet is fascinated by the mystery of these mountains and their interaction with the clouds. Six months later, he returns to climb most of them with his camera.
Happy to mainly be working on long-term projects, the artist sets up his tripod in different parts of the world. He crosses the deserts of the Middle East, sails to Antarctica and lingers over many horizons.
As a sensitive esthete and unfailingly linked to Nature, the artist eye relentlessly studies deeper perspectives that would remain inaccessible to a surface gaze. His meticulous, precise and poetic artworks transports the spectator in a universe full of details, atmospheres and unusual shapes, a universe of simple beauty.
Initially slightly skeptical and now totally convinced by digital photography, Pierre-Alain Folliet works with high precision devices such as the Alpa and PhaseOne platforms.
Different projects currently are in the works, including books and exhibits, as well as portfolios encompassing Desert images, Horizons, the Antartica, aso.
The artist's work has been shown in the Europe, Brazil and USA and can be found in numerous private collections.